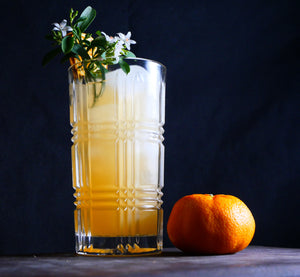 Mandarin 'Sonic'
Ingredients
• 45ml Big River Mandarin Gin
• Mediterranean tonic
• 'Capi' blood orange soda
• ice
• Mandarin to garnish
Method
Pour gin over ice then top with a 50\50 mixture of tonic and soda. Garnish with a dried mandarin wheel, or fresh mandarin.
'Lazy Susan'
Ingredients
• 45ml Big River Mandarin Gin
• 10ml Fernet Branca
• 50ml Mandarin Juice
• ice
• mint and a twist of lemon to garnish
Method
Shake over ice then serve in a coupe glass. Complex and sophisticated.