ABOUT BIG RIVER
Welcome to Big River Distilling Company. It's our pleasure to have you with us.
Please, make yourself at home.
What we do can be distilled into two words:

Remarkable spirits.

Two words that sound simple, yet are as multifaceted as the drinks we create.
OUR PRODUCTION PROCESS
Distilling is an exact science, combining flavours and inspiration. Curious and independent, we are guided but not bound by tradition.  We create spirits that reflect the unique Canberra environs.  They enliven your senses and evoke a sense of time and space.
Our gin is produced using a 420 L stainless-steel pot still fitted with a copper botanical basket in a "single -shot" distillation.  Neutral grain spirit (from a wheat based feedstock) of the highest purity (96.0% ABV or higher) is used as the base to ensure the botanical flavours are not muddied by any dirty spirit character.  This spirit is cut back with filtered, beautiful water fresh from the Brindabella mountains.
Depending on the spirits we'll either macerate the botanicals, vapor infuse them, or use a combination of both. The distiller then makes a heads and tails cut, by nose, keeping only the middle fraction of the distillate, known as the hearts, and the spirit is bottled at its designated strength. After bottling we give our spirits a few weeks rest to allow for flavour reformation.
OUR PEOPLE
What makes Big River Distilling Company different? People are always the difference. Introducing Clyde Morton…
Clyde has concentrated his life's work, interests and inspiration to deliver you artisan spirits like no other. As Founder/ Chief Beverage Engineer Clyde has:
• A highly developed palate (ten years as a winemaker will help).
• A formidable interest in Australian plants and plants of the world (that course in botany has come in handy).
• A fundamental understanding of the distillation process & the science of flavour (four science degrees provides a great background).
• Creativity (a will to experiment and innovate).
• Dogged determinedness (will help when completing all the forms and licences required to get you going).
• A post-doc in nuclear physics (not absolutely essential but if you have ever wondered when drinking a G & T on a summer's afternoon what the chances of an upwardly travelling muon colliding with the earth beneath your deck, Clyde can help with the calculation).
• A business and life partner (Susan, who keeps Clyde grounded, laughs at his jokes and tests out his creations).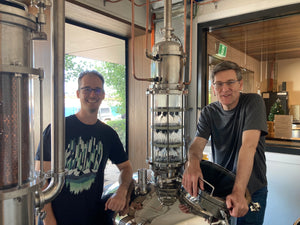 The rest of the team
Reuben Creighton joined Big River in 2021 as Assistant Distiller, after a career in geology. His scientific training and attention to detail make a vital contribution to our exacting production and new product development processes. Reuben is a keen foodie, with an enviable prowess in preserving and drying all manner of produce his family grows, forages or sources from local providores.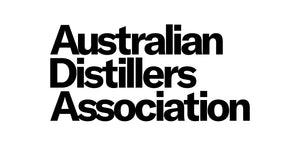 Big River is a proud member of the Australian Distillers Association and supports the production of high quality Australian spirits.
More info